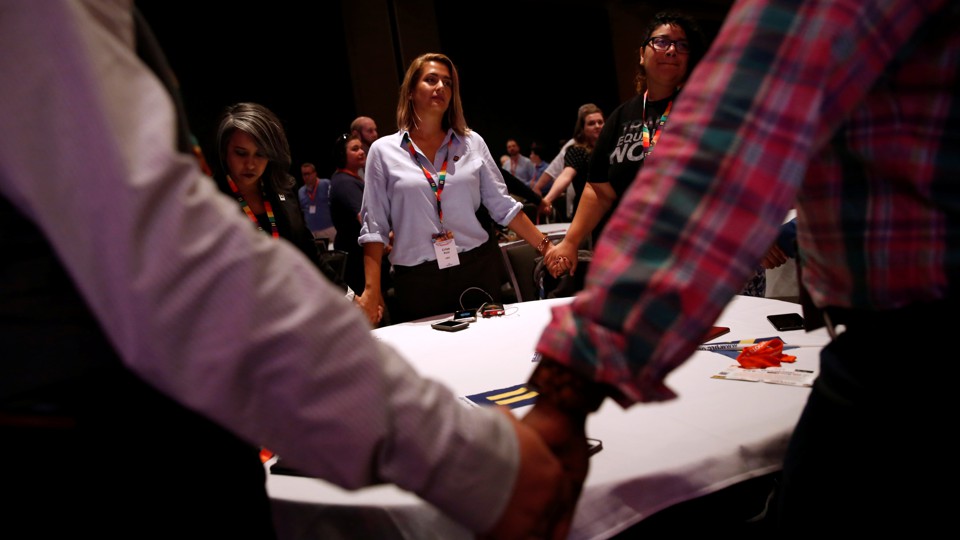 Talking about race is bad, and campaigning on it makes voters feel bad. Or so the conventional wisdom has been in past election years.
One progressive organization, though, says specifically invoking racial identity actually increases the efficacy of their message—if it's done the right way. Demos, a liberal think tank that focuses on voting rights and civic engagement, presented new research on how to effectively use a "race-class narrative" last weekend at the annual Netroots Nation gathering of progressive activists in New Orleans. "A significant number of people in the Democratic establishment…think we should talk about economic populism only," said Ian Haney López, a law professor at UC Berkeley and a senior fellow at Demos, at the packed panel on August 3. They're wrong, he says. "Naming race works."
Demos's findings offer a potential answer to the questions swirling within the Democratic Party about the role race should play in their messaging: How can they appeal to people of color, who make up nearly 40 percent of their base, without alienating white voters—and vice versa? To win in November and beyond, progressives say, they need a multiracial coalition. To build that coalition, they need to answer this question.
Demos's survey, which was conducted by Lake Research Partners, in collaboration with ASO Communications and Brilliant Corners Research and Strategy, tested a set of 11 "race-class narratives" with 1,500 American adults nationwide. They also did separate testing in Indiana, California, Minnesota, and Ohio. In an 18-minute online survey, respondents listened to each of the narratives, and used a slider to indicate how they felt about it: If they liked what was being said, they moved the slider to the right, for a rating higher than 50. They dragged it left when they didn't, for a rating lower than 50.
Before the test, people were …read more
Source:: The Atlantic – Politics