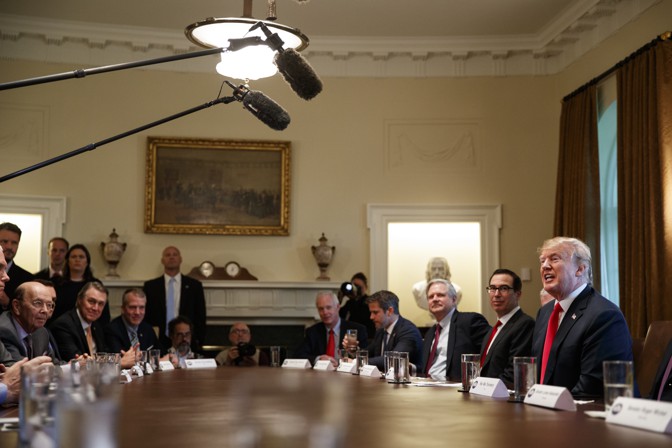 -Written by Lena Felton (@lenakfelton) and Elaine Godfrey (@elainejgodfrey)
Today in 5 Lines
President Trump signed an executive order he said would end his administration's policy of separating families at the border, but it could face court challenges over portions that direct the Department of Homeland Security to hold families indefinitely.
Republican lawmakers still plan to vote on two immigration bills tomorrow.
Michael Cohen, Trump's longtime personal lawyer, resigned from his post as deputy finance chair of the Republican National Committee's Finance Committee, citing Special Counsel Robert Mueller's ongoing investigation.
Former New York City Mayor Michael Bloomberg has reportedly approved a plan to spend $80 million to boost Democratic candidates in the 2018 midterm elections.
Trump will hold a rally in Duluth, Minnesota, starting at 7:30 p.m. ET to support Republican congressional candidate Pete Stauber, who is running in a highly contested district.
Today on The Atlantic
Trumpism, Realized: Trump's policy of separating families at the border "has roused the ghosts that haunt America"—and it will go down in history alongside them as one of the most shameful episodes in the country's history. (Adam Serwer)
Enforce the Border, Humanely: David Frum argues that while Trump's policies and rhetoric are brutish, his opponents' reactionary extremism is also standing in the way of rational, lawful immigration control.
An Exceptional Cruelty: Many staffers at immigrant shelters are prohibited or prevented from hugging or touching the children there. Here's why those rules could be harmful. (Ashley Fetters)
SnapshotPresident Trump speaks in a Cabinet meeting at the White House on immigration policy. Evan Vucci / AP
What We're Reading
Have Questions About the Family-Separation Policy?: Here are some answers. (Seung Min Kim, The Washington Post)
The Think Tank Stocking the Trump Administration: Back in 2014, the Heritage Foundation created a database of more than 3,000 conservatives they …read more
Source:: <a href=https://www.theatlantic.com/politics/archive/2018/06/the-atlantic-politics-policy-daily-a-sign-of-the-times/563351/?utm_source=feed target="_blank" title="The Atlantic Politics & Policy Daily: A Sign of the Times" >The Atlantic – Politics