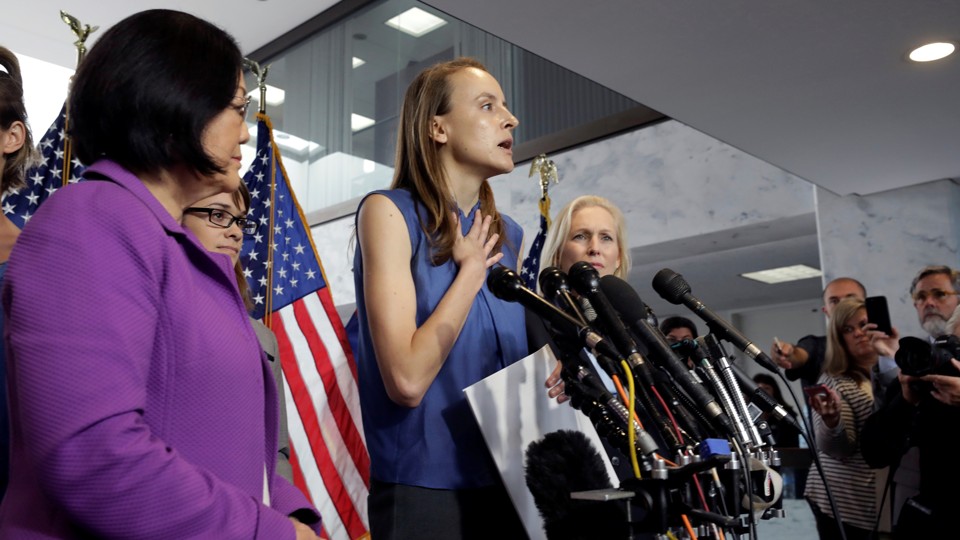 In a likely redux of the 1991 Clarence Thomas-Anita Hill hearings, Washington appears headed for dramatic public testimony by Supreme Court nominee Brett Kavanaugh and the woman who's accused him of sexual assault when they were teens, research psychologist Christine Blasey Ford. Negotiations between Ford's lawyers and Judiciary Committee Republicans seemed to be moving forward after a head-spinning week of back-and-forth talks. Reports on Sunday afternoon suggest agreement on a Thursday hearing.
But what should that hearing look like? How can senators determine what happened at a high school house party in the 1980s? How should they treat a private citizen who has come forward with allegations of sexual misconduct against a man up for a lifetime appointment to the nation's highest court? How should they treat the nominee who categorically denies assaulting anyone, ever? What should be the standard of proof?
On Sunday morning's talk shows, no one had a clear answer.
Republicans who want Kavanaugh on the bench before the court's first arguments Oct. 1 also wants to avoid long-term damage from the committee's 11 male GOP senators grilling a woman alleging sexual assault, a reprise of the Anita Hill hearings but in the age of #MeToo and President Trump's own fraught history with female accusers and his Access Hollywood admission.
"I hope that Judge Kavanaugh and Dr. Ford both get a fair hearing," Senator David Perdue, a Georgia Republican, said on NBC's Meet the Press. He said Ford had brought forward "serious allegations" that needed to be heard. When asked how senators should assess the testimony, Perdue avoided a specific answer and described the goal as "to find the truth, just like in any courtroom in our land." Asked about a push to get Kavanaugh confirmed quickly–as Majority Leader Mitch McConnell suggested Friday at a conference …read more
Source:: The Atlantic – Politics