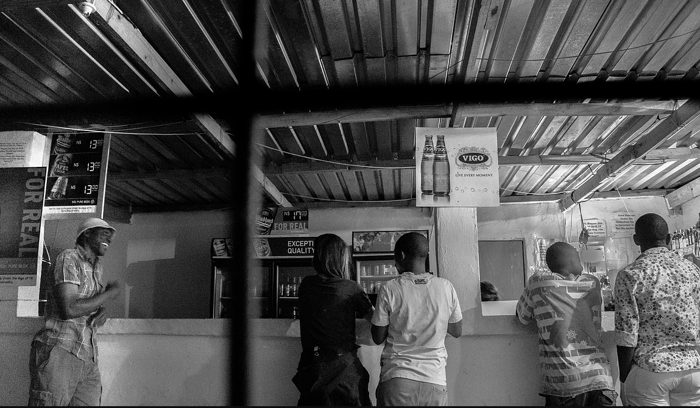 Tsumkwe is the closest thing to a town in Namibia's Nyae Nyae district, the epitome of remoteness in a country where almost everywhere is remote. Tsumkwe is also the capital of roughly 3,500 Ju/'hoansi, perhaps the best known of the few groups of people who continued to live as hunter-gatherers well into the 20th century.
If Tsumkwe has a center, then it is the Tsumkwe General Dealer, a small thatched shop and gas station that stands at the town's only paved intersection. It is here that most Ju/'hoansi gravitate whenever money finds its way into their pockets, to purchase dry foods, alcohol, soft drinks, cookware, tools, blankets, and medicine.
. The Ju/'hoansi had an unyielding confidence in the providence of their environment and in their knowledge of how to exploit it. This meant that the Ju/'hoansi, like other hunter-gatherers, focused almost myopically on the short term—if the environment always supplied food and materials and the seasons were broadly predictable, what point was there in worrying about the future? This confidence also meant that the Ju/'hoansi did not store food for more than a few days and only expended energy on securing just enough to meet their immediate needs—in much the same way that many harried city dwellers live hand to mouth on convenience foods.
But unlike those urbanites, the Ju/'hoansi shared their food with one another according to a set of social prescriptions that ensured pretty much everyone, including the young, old, or disabled, got a share. As a result the Ju/'hoansi were also thoroughly egalitarian, mercilessly ribbing anyone that developed delusions of grandeur and seeing no point in accumulating wealth or formalizing systems of exchange. They also enjoyed giving friends ritualistic gifts called hxaro, but in these cases it was the implied affection in the act of giving that was important—the gift …read more
Source:: The Atlantic – Business