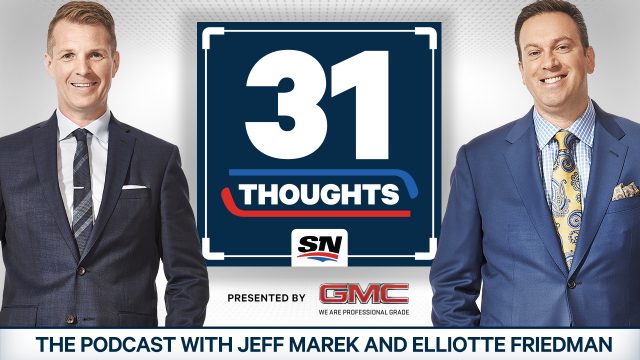 BOSTON – "I just want my name on the damn Cup. That's what I want."
Those are the words of Boston Bruins coach Bruce Cassidy on Wednesday morning in response to a question about legacy.
Tonight is one that defines them, all of them, no matter the sweater colour.
Hockey players always talk about not getting ahead of themselves, of focusing on the next one. Well, the next one is the last one, the only one.
"You grow up playing in the Stanley Cup Final Game 7, that's what you talk about as a kid. It's a great opportunity," St. Louis Blues captain Alex Pietrangelo said. "That's it. Winner take all. It's one game. Get your mind ready. It's just one more game."
The power of a Stanley Cup Final Game 7 is immeasurable, and it's not hyperbole to say Wednesday night — be it glory or agony — will stay with the men involved for the rest of their lives.
How puck bounces will make heroes and change lives. It will also haunt some until they die.
31 Thoughts: The Podcast
A weekly deep dive into the biggest hockey news in the world with hosts Elliotte Friedman and Jeff Marek. New episodes every Thursday.
Apple Podcasts
| Podcatchers
| Listen Now
Karson Kuhlman tossed and turned for quite a while before he finally fell asleep last night.
"You wake up, and your dream is at your fingertips," Torey Krug said.
Brad Marchand, who's both won and lost in the fourth round, is thinking about all the great veterans in this league and how few cracks at this, if any, they're granted.
"You need everything to go your way. You need the calls, you need the bounces, you need guys to be healthy and guys to step up …read more
Source:: Sportsnet.ca
(Visited 2 times, 1 visits today)