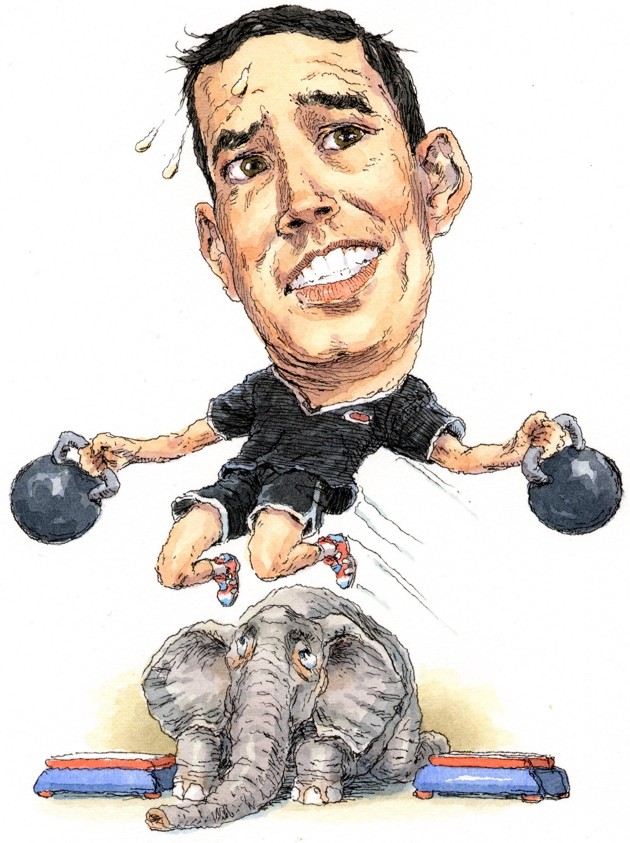 John Cuneo
George Prescott Bush wants you to know that he is not low-energy.
At least, that's the distinct impression I got when I encountered Bush, the elder son of Jeb and leading repository for the hopes of an endangered political dynasty, one January morning at a CrossFit gym in Austin, Texas.
The day before, Bush had switched up our meeting place from a barbecue joint, where we were supposed to have lunch, to the gym, where I assumed we would exercise. But when I showed up at the appointed time in hastily acquired workout garb, Bush, who was lifting a heavy object, looked at me like I was an alien.
"Oh!" he said once the fog of confusion lifted. "You look like you're ready for a class yourself!"
It quickly became clear that Bush, who was dressed in a black T-shirt, black mesh shorts, and a black baseball cap that read come and take it (a reference to the Texas Revolution), had not invited me to CrossFit to work out, but to catch the end of his own session. Once we had that sorted out, we sat down at a table near the middle of the gym, where, to a pulsing soundtrack featuring lyrics like I love bad bitches, that's my fuckin' problem, I asked questions about his political future.
Being a scion of one of America's leading political families comes with the advantage of inherited hindsight, or the ability to parse what sold (and what didn't) in those who came before you. Bush, who is 43 and goes by George P., can seem like the updated and optimized product of his forebears. Like his grandfather, he has a patrician jawline. Like his Mexican-born mother (and the soon-to-be plurality of Texans), he identifies as Latino. His love of policy recalls his father, while his …read more
Source:: The Atlantic – Politics
(Visited 1 times, 1 visits today)