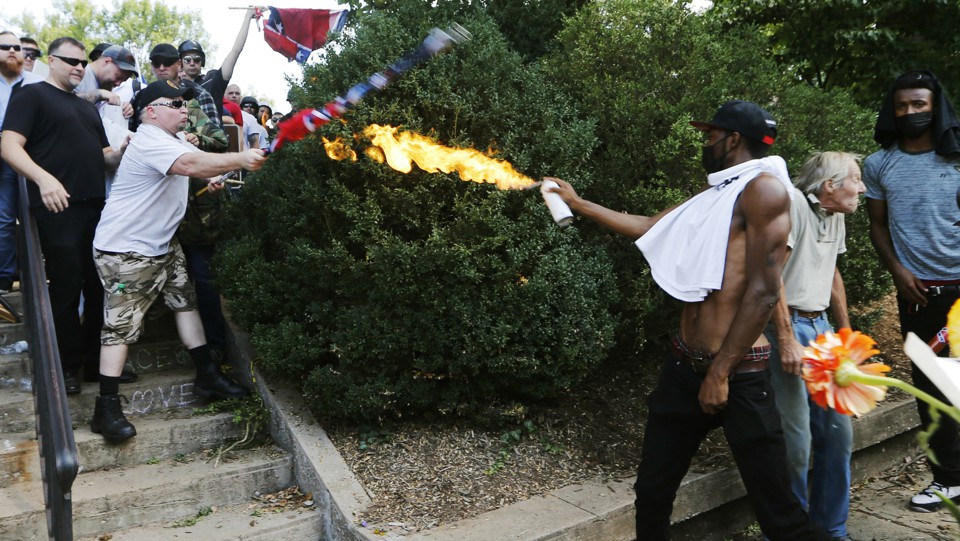 Corey Long remembers reaching quickly for the aerosol can thrown forcefully in his direction. A man carrying a Confederate flag was yelling, and moving uncomfortably close to him. He began spraying the can, and used a lighter to turn it into a improvised flamethrower.
"I was just pretty much trying to back them up, but they just kept coming," he said. The moment was immortalized in a photograph, which quickly spread across the internet and the world.
Nearly one year later, Long is reflecting on the altercation as he's preparing steak, asparagus, and salad for a recent Thursday dinner at his Virginia home. He is still healing. Cooking keeps him distracted while talking about the events that unexpectedly turned him into a symbol against white supremacy.
"I didn't want to do anything, for real," Long said of his intentions in that moment, dismissing the idea that he went to Charlottesville to confront anyone that day. "I just wanted to see what was going on." His voice drifts off as he finishes his thought: "Then, it turned chaotic."
The United States has not been the same since August 12, 2017. That day, a "Unite the Right" rally in Charlottesville followed a night in which white nationalists stormed through the University of Virginia's campus wielding tiki torches and chanting hateful slogans. The day's ugliness remains horrific: the death of Heather Heyer; a car maliciously plowing into dozens of people protesting against white supremacy; DeAndre Harris getting brutally beaten seemingly within an inch of his life. What took place in Charlottesville was not just the bloodiest battle in the fight over the future of Confederate monuments in America, but also a historically disheartening day in the nation's long struggle to overcome hatred and racism. And Charlottesville, even after almost …read more
Source:: The Atlantic – Politics
(Visited 2 times, 1 visits today)