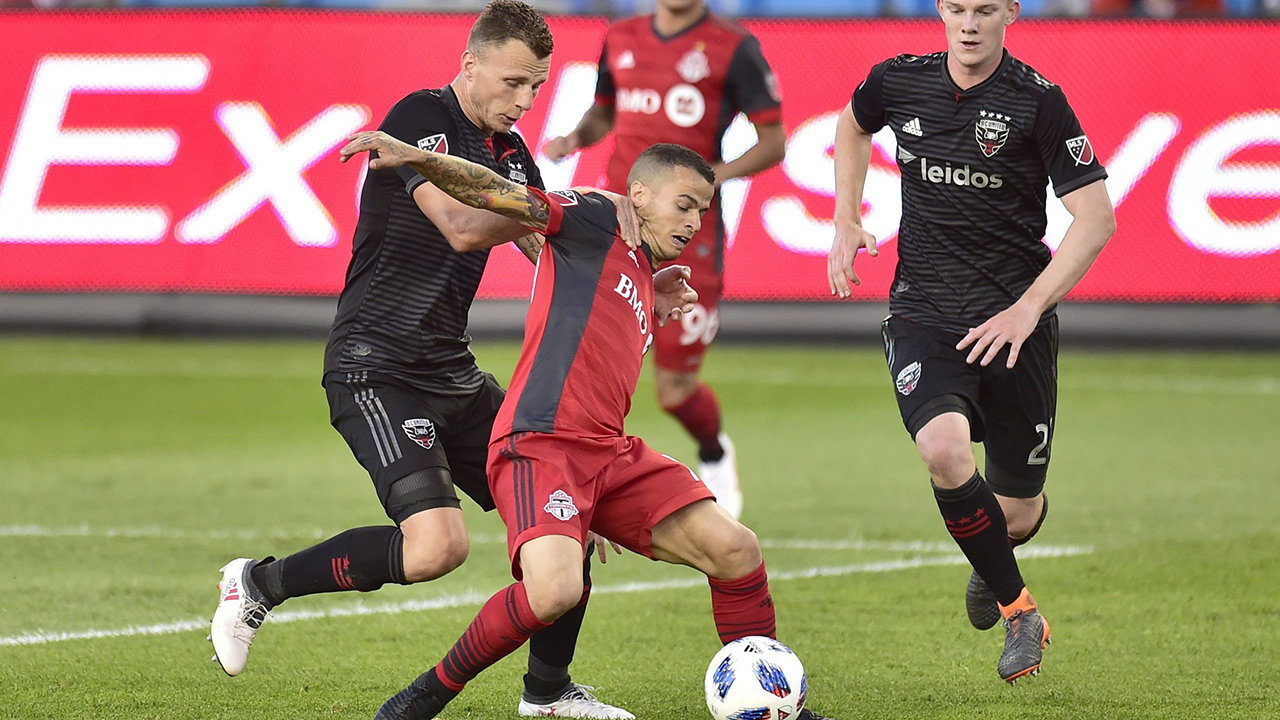 • D.C. United 4 (Asad 12′ and 90′, Arriola 17′, Mattocks 45′), Toronto FC 4 (Osorio 56′, Vazquez 64′, Hagglund 86′ and 90′ + 2′)
• TFC comes from behind twice to earn a draw
• Reds booed off pitch by fans before halftime
TORONTO – What a crazy game.
Toronto FC came from behind twice to earn a 4-4 draw against D.C. United on Wednesday night before 23,011 spectators in one of the wildest games ever played at BMO Field.
Down 3-0 at halftime, TFC fought back to score three straight goals in the second half, with the equalizer coming from Nick Hagglund in the 86th minute. D.C. retook the lead just four minutes later, only for Hagglund to bail out the Reds a second time by scoring another equalizer in injury time.
If only they gave three points for moral victories. Unfortunately, they don't, and as great as the comeback was, it doesn't disguise the fact that the Reds couldn't beat the last-place team in the Eastern Conference, and the second-worst team in MLS.
Defender Eriq Zavaleta was in TFC's starting 11, making his first appearance since May 18 after being sidelined with a quad issue. Bothered by a problem calf, Justin Morrow entered the game as second-half substitute for his first MLS appearance since the first day of the season. Notable absences for the Reds were defenders Drew Moor and Chris Mavinga, midfielder Marky Delgado and forward Jozy Altidore.
Toronto started strong out of the gate, with Victor Vazquez and Nico Hasler carving out early scoring chances. But as the game wore on, the hosts looked slow and tired, and were routinely burned by D.C.'s quick counterattack.
D.C. opened the scoring against the run of play, putting together a pretty, multi-pass sequence that ended with Yamil Asad beating …read more
Source:: Sportsnet.ca
(Visited 3 times, 1 visits today)