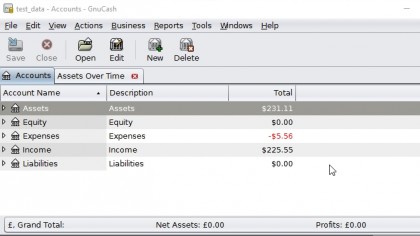 Whether you're a freelancer or a flautist, a graphic designer or a greengrocer, if you're running any kind of business you really need some kind of accounting software to stay on top of things – as we discovered, the age-old system of throwing everything into a drawer and panicking at tax return time isn't the best.
But that doesn't mean you need to invest huge sums or learn something hopelessly complicated. The best free accounting software is easy to use and enables you to see how well you're doing and who owes you money.
GnuCash is accounting software designed for individuals and small businesses, and was initially conceived as an open source alternative to apps such as Intuit's Quicken.
It's available for Linux, GNU, OpenBSD, Android, macOS and Windows, and it's been kicking around since the late 1990s – but the most recent update was in April 2018.
It handles invoicing and credit notes, accounts payable and receivable, employee expenses and some payroll features too, and it's quite happy with multiple currencies, cards and accounts. Its sheer flexibility makes it our top choice when it comes to accounting software for kitchen table businesses.
Review and where to download: GnuCash
Money Manager Ex is available for Windows, macOS, and even Android
Another superb open source tool, Money Manager Ex is well designed and packed with enough features to rival premium software. It's easy to understand, and you'll have your accounts and transactions set up in no time. Money Manager Ex's simplicity makes it a particularly good choice for sole traders or your own home finances.
This free accounting software is a portable app, so you can save and use it straight from a USB stick without installing it. There's even an Android app for updating your accounts on the move.
Review and where to …read more
Source:: TechRadar – All the latest technology news
(Visited 3 times, 1 visits today)