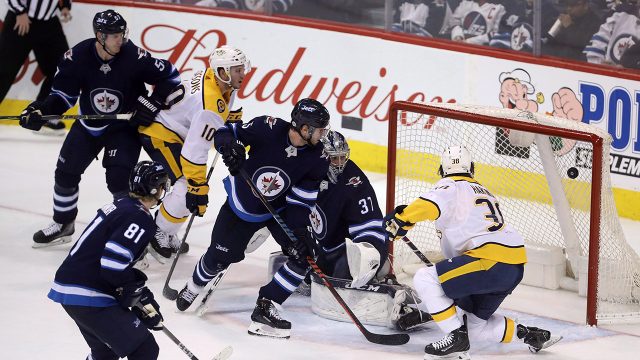 When you have one of the two best players in the world, it shouldn't be the hardest task for a GM to find a linemate skilled enough to play alongside them.
Despite the Edmonton Oilers suffering through a miserable season few saw coming, Connor McDavid won his second consecutive Art Ross Trophy with 108 points, which was good enough for some to consider him for the Hart Trophy even though his team missed the playoffs by 17 points.
But through most of the season, Edmonton was either experimenting combinations to find a permanent wingman for McDavid, or went the easy route and put centre Leon Draisaitl there. There's no question Draisaitl and McDavid have chemistry, but when it comes to the long-term success of the Oilers it seems imperative that those two occupy the top two centre roles at even strength.
Stanley Cup Playoffs on Sportsnet NOW
Livestream every single game of the 2018 Stanley Cup Playoffs—blackout free—plus the Toronto Blue Jays, key Raptors & NBA Playoffs matchups and the 100th Mastercard Memorial Cup, all in one subscription.
SIGN UP
Pontus Aberg was acquired and immediately placed with McDavid. Milan Lucic got a look, but is far too slow to keep up with the game's fastest skater and Jesse Puljujarvi was given a brief opportunity. You name the winger and he's probably seen some ice time with McDavid.
None of them stuck, but when Ryan Nugent-Hopkins was given a shot to move from the third-line pivot spot to McDavid's left wing, there was instant chemistry. The two were together for the last 13 games of the NHL's regular season and Nugent-Hopkins recorded 15 points. He was held off the score sheet just four times.
The duo have continued with …read more
Source:: Sportsnet.ca
(Visited 1 times, 1 visits today)