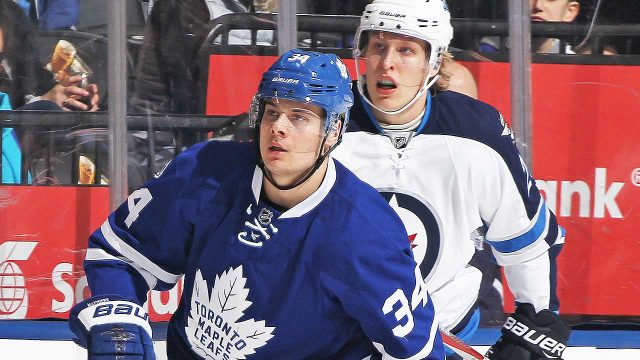 TORONTO – It's little wonder why Andreas Johnsson was completely blindsided by the phone call.
About the last thing you'd think the Toronto Maple Leafs would need right now is another option on the wing. The decision to summon Johnsson for Wednesday's game against the Dallas Stars was a surprise on many levels, particularly to the 23-year-old Swede, who experienced "an energy rush going through the whole body" and had trouble sleeping after getting the news on Monday night.
He may experience a fresh round of shock when he grasps what's really at play here: This is an audition rather than simply a reward for his strong play in the American Hockey League. The Leafs see him as a possible solution to one of their few nagging problems.
"He's had a good year," coach Mike Babcock said Tuesday. "We haven't had a lot of opportunity to give him a chance. Even now, obviously we're going to have to sit someone else to do it. So that makes it hard. But we have an opportunity here this week with three games [in four days] and so we'll have a look at him, and therefore if we need him at playoff time we have an understanding of what he can do."
Stanley Cup Playoffs on Sportsnet NOW
Livestream every single game of the 2018 Stanley Cup Playoffs—blackout free—plus all 162 Toronto Blue Jays games, key Raptors & NBA Playoffs matchups and the 100th Mastercard Memorial Cup, all in one subscription.
SIGN UP
It must be something to spend two years walking into the wind and then suddenly have it at your back. Johnsson has been buried down the depth chart while scoring 46 AHL goals these last couple seasons – caught on …read more
Source:: Sportsnet.ca
(Visited 4 times, 1 visits today)