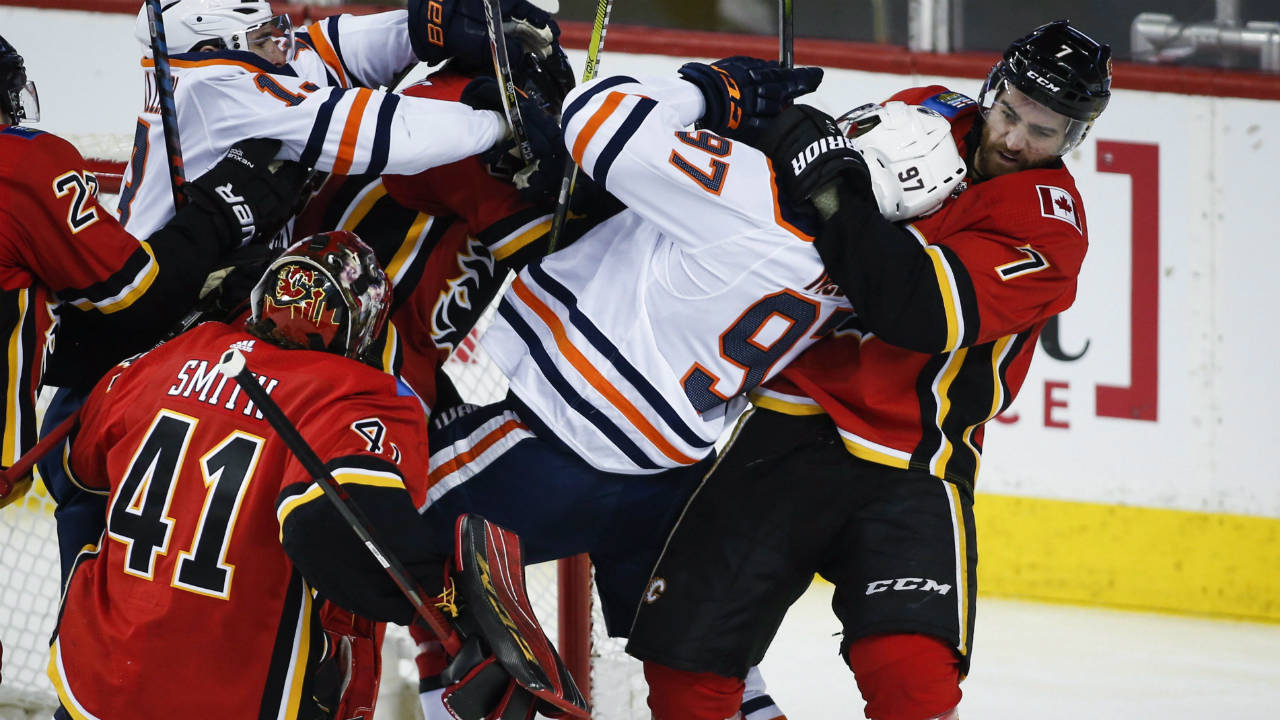 Johnny Gaudreau scored the game's only goal and Mike Smith stopped all 28 Edmonton Oilers shots in the Calgary Flames' 1-0 win in the Battle of Alberta at Scotiabank Saddledome in Calgary on Tuesday.
SMITH STEPS UP
In just his second game since returning to the lineup after missing 13 games with a lower-body injury, Smith nabbed his third shutout of the season and the 36th of his NHL career.
Injured with 1.1 seconds left in the Flames' 3-2 win in Brooklyn on Feb. 11, Smith looked a little shaky in the first period of Sunday's game against the Islanders, his first in exactly one month. After getting the rust off in the opening 20 minutes, two-time all-star looked a lot more comfortable and confident in the final 40 minutes of the 5-2 loss and that carried over into Tuesday's game against the Oilers.
Smith was outstanding in both stopping the puck and playing it. The 35-year-old showed some incredible athleticism in the third period, when on a perfect pass from Connor McDavid, Ryan Nugent-Hopkins one-timed a shot towards what appeared to be an open net. Somehow, Smith stretched out and got his right pad on the puck to keep the Flames in front, making one of the best saves that I've seen this season.
if ( "1" == true && 'undefined' !== typeof window.getIndexAds ) {
var so = {preroll:{1:{1:{siteID:191888},2:{siteID:191889}}}};
adServerUrl = window.getIndexAds( 'http://pubads.g.doubleclick.net/gampad/ads?sz=640×360&iu=%2F7326%2Fen.sportsnet.web%2FVideo&ciu_szs=300×250&impl=s&gdfp_req=1&env=vp&output=vast&unviewed_position_start=1&ad_rule=1&vid=5750903171001&cmsid=384', so, permalink);
} else {
adServerUrl = "http://pubads.g.doubleclick.net/gampad/ads?sz=640×360&iu=%2F7326%2Fen.sportsnet.web%2FVideo&ciu_szs=300×250&impl=s&gdfp_req=1&env=vp&output=vast&unviewed_position_start=1&ad_rule=1&vid=5750903171001&cmsid=384";
…read more
Source:: Sportsnet.ca
(Visited 4 times, 1 visits today)