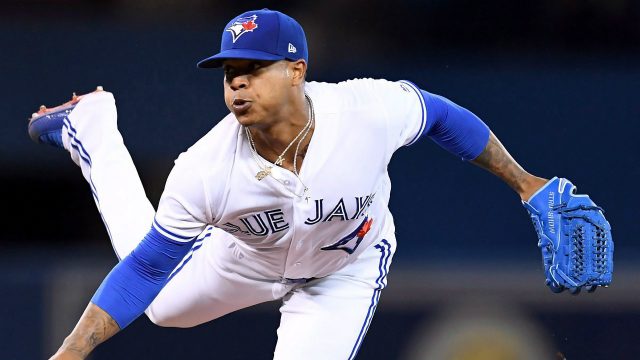 ORLANDO, Fla. – By this point in the spring, Aaron Sanchez has a pretty good idea of how the ball's leaving his hand and how hitters are responding once his pitches reach home plate.
So far, he's encouraged, and with two starts remaining before the games start to count, his expectations for himself are once again high.
"Absolutely," Sanchez said. "And if they're not, then we have a problem."
His latest outing saw him pitch into the fifth inning for the first time this spring, and allowed him to work on his off-speed pitches, particularly his change-up. He threw 64 pitches, many of which were fastballs in the 94-96 m.p.h. range. Ronald Acuna, considered the top prospect in baseball, hit one of those fastballs over the right-centre-field wall, but overall Sanchez pitched well, allowing two runs on six hits in 4.1 innings against the Atlanta Braves while walking one and striking out three.
"I'm excited, man," Sanchez said afterwards. "I know the ceiling's pretty high for me, and for me I just want to reach the ceiling as fast as I can. It's a work in progress, but I'm here for the long haul and I'm ready to work, so let's get it."
Toronto Blue Jays on Sportsnet NOW
Sportsnet NOW is the exclusive home of Everything Blue Jays. Livestream all 162 games, including Blue Jays Central and Jays in 30. Plus, get every single game of the Stanley Cup Playoffs, with no blackouts, as well as key Raptors & NBA Playoffs matchups all in one subscription.
SIGN UP NOW
Early in spring training, Sanchez had to make sure that he was feeling healthy, with no lingering effects of the blister and finger issues that sidelined him for most of the 2017 season. But as manager John Gibbons put …read more
Source:: Sportsnet.ca
(Visited 3 times, 1 visits today)