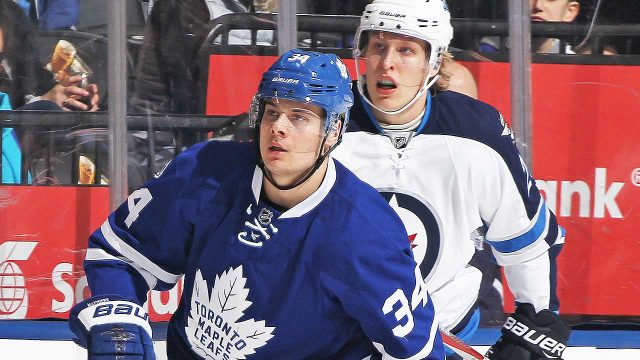 TORONTO – A critical game for the Dallas Stars means almost nothing to Toronto Maple Leafs not named Andreas Johnsson, Ron Hainsey takes a decidedly blunt look on the "joys" of shot blocking, and two important defenders appear to be sidelined Wednesday.
Here are five storylines to watch Wednesday in Toronto.
Stanley Cup Playoffs on Sportsnet NOW
Livestream every single game of the 2018 Stanley Cup Playoffs—blackout free—plus all 162 Toronto Blue Jays games, key Raptors & NBA Playoffs matchups and the 100th Mastercard Memorial Cup, all in one subscription.
SIGN UP
Babcock's advice to Johnsson: 'Dreams do come true'
Mike Babcock smiled secretively when we asked what his message might be to Johnsson ahead of the winger's NHL debut Wednesday.
"Nothing I'm going to tell you guys, but we'll have a few laughs with him today, to say the least," the Maple Leafs coach said.
"Get out there and enjoy it. You spent your whole life dreaming of it. Dreams do come true if you work hard enough, if you have enough passion."
Sitting in a corner stall the morning of the largest game of his life, Johnsson spoke about having to handle "the energy rush" and emotions of night. The 23-year-old called his parents with the good news Tuesday, and his whole family will be staying up late in Sweden to watch.
"It's just the hockey game you've played forever. I'm not going to change any routines I have," said Johnsson, sounding like a man trying to convince himself. "I'll stay [with] what I'm used to and not think about how big it is."
Babcock says there's no sense being uptight.
"Get out there and play. Do what you do. You got here because you have something," Babcock said. "Enjoy …read more
Source:: Sportsnet.ca
(Visited 1 times, 1 visits today)