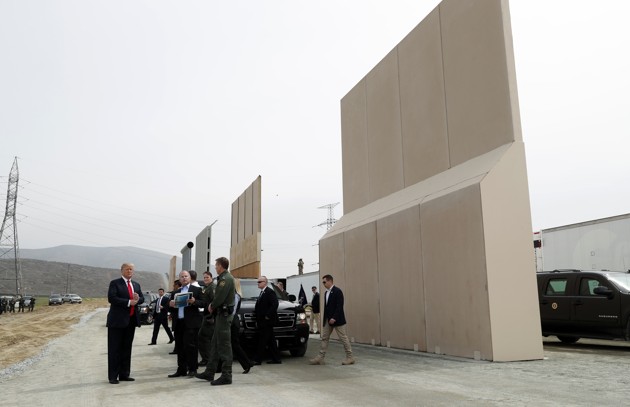 Today in 5 Lines
President Trump announced that Secretary of State Rex Tillerson would be replaced by CIA Director Mike Pompeo, and named Gina Haspel to head the intelligence agency.
A State Department statement contradicted the White House's account of Tillerson's dismissal. The statement, attributed to Under Secretary for Public Diplomacy and Public Affairs Steve Goldstein, said Tillerson didn't know he'd be fired until this morning. Goldstein was fired after its release.
During a news conference, Tillerson said his last day will be March 31, but he will delegate most of his duties to a deputy on Tuesday. Read the full transcript of his remarks here.
Trump's personal assistant, John McEntee, was reportedly fired after it was revealed he was being investigated by the Department of Homeland Security—but will be joining Trump's re-election campaign.
Trump viewed prototypes of his proposed U.S.-Mexico border wall in San Diego.
The Race We're Watching
Voters are headed to the polls to cast their ballots in the special election to replace Representative Tim Murphy in Pennsylvania's 18th congressional district.
The district has more registered Democrats than Republicans but went overwhelmingly for Donald Trump in 2016. Today's race between Democrat Conor Lamb and Republican Rick Saccone has less to do with political power and everything to do with symbolism: A Democratic victory could show how the party can appeal to the white working class—and cause Republicans to rethink their midterms strategy.
Polls will close at 8 p.m. ET.
Note: Whoever wins today will have to run again in November, as court-mandated redistricting will render the current 18th district obsolete. Here's what PA-18 will likely look like later this year.
Today on The Atlantic
Why Did Trump Fire Tillerson Now?: David Frum argues that the timing of the move raises questions about its motive.
Beholden to No One?: Donald …read more
Source:: <a href=https://www.theatlantic.com/politics/archive/2018/03/the-atlantic-politics-policy-daily-train-rex/555548/?utm_source=feed target="_blank" title="The Atlantic Politics & Policy Daily: Train Rex" >The Atlantic – Politics
(Visited 4 times, 1 visits today)