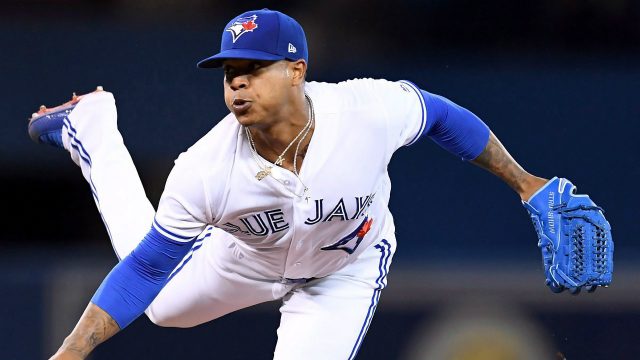 DUNEDIN, Fla. – Marcus Stroman had been looking forward to facing the New York Yankees on opening day, but shoulder inflammation has delayed his 2018 debut and now the Toronto Blue Jays will have to begin the season with someone else on the mound.
So who will get the opening day start? Granted, it's not a question that will make or break the 2018 Blue Jays, but it's at least an interesting discussion with little more than two weeks remaining before the opener.
When John Gibbons was asked who would replace Stroman Monday morning, he kept his options open.
"We'll see," he said. "We could go with any of them."
Toronto Blue Jays on Sportsnet NOW
Sportsnet NOW is the exclusive home of Everything Blue Jays. Livestream all 162 games, including Blue Jays Central and Jays in 30. Plus, get every single game of the Stanley Cup Playoffs, with no blackouts, as well as key Raptors & NBA Playoffs matchups all in one subscription.
SIGN UP NOW
At this point in the spring, that's technically true. Realistically, though, some candidates are more compelling than others once you take a closer look…
Jaime Garcia
Last start: March 10
To line him up for the opener: The Blue Jays would have to start Garcia on five days' rest twice this month and on six days' rest once.
Verdict: It would be both bizarre and inconvenient to make Garcia the opening day starter. Bizarre, because he has never pitched a regular-season game for them and inconvenient since it would mean altering his schedule to mix in additional rest days. We can rule out Garcia, even if Gibbons says it could be anyone.
Aaron Sanchez
Last start: March 8
To line him up for the opener: The Blue Jays …read more
Source:: Sportsnet.ca
(Visited 4 times, 1 visits today)