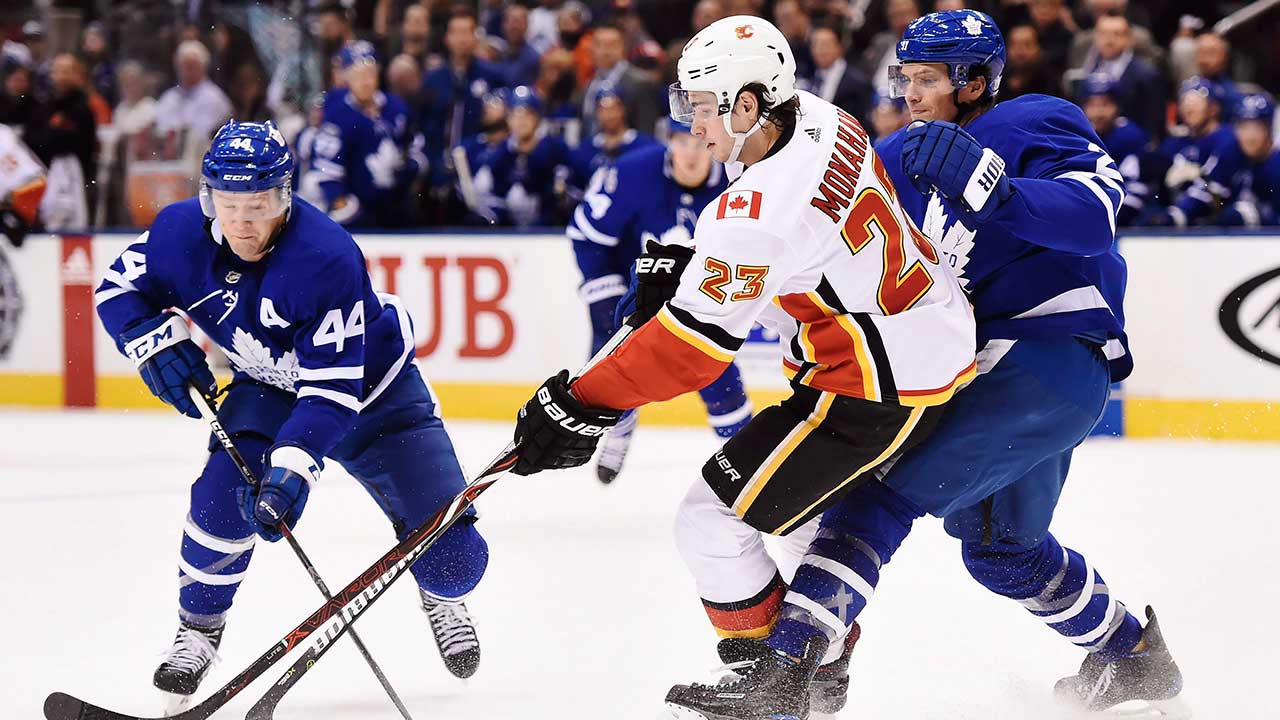 TORONTO – Glen Gulutzan believes things aren't snowballing in the wrong direction until his team has lost three straight games.
At least the Calgary Flames can find a silver lining in their longest losing streak of the season.
They threw absolutely everything they had at Frederik Andersen on Wednesday night – outshooting the Toronto Maple Leafs 48-29 – before dropping a 2-1 decision in the shootout.
They deserved a better fate, but at least picked up a point in the standings. You could see a response after the Flames coach challenged his team.
"It hasn't been a warm and fuzzy message," said Gulutzan.
They had a lot to feel good about as they packed up their gear at Air Canada Centre and headed east to Montreal for a Thursday meeting with the Canadiens. It was one of their strongest performances of the season.
Flames captain Mark Giordano opened the scoring by wristing a point shot through a sea of bodies and past Andersen at 10:37. The Toronto native looked towards a group of family and friends in the stands who let out an audible cheer – exactly the kind of thing the coach was looking for on this two-game mini-trip.
"A big part of our meeting this morning with Gully was have some fun in these markets," said Giordano. "Toronto and Montreal, back-to-back, it's pretty cool. Pretty good buildings to play in."
It was just the fourth time all season Calgary has emerged from the first period with a lead.
The Flames generated a lot more offensively than in last week's 4-1 home loss to Toronto, when they managed just 20 shots on goal. They surpassed that total by the midway point of Wednesday's game.
However, Calgary went to the final period tied because of a …read more
Source:: Sportsnet.ca
(Visited 4 times, 1 visits today)