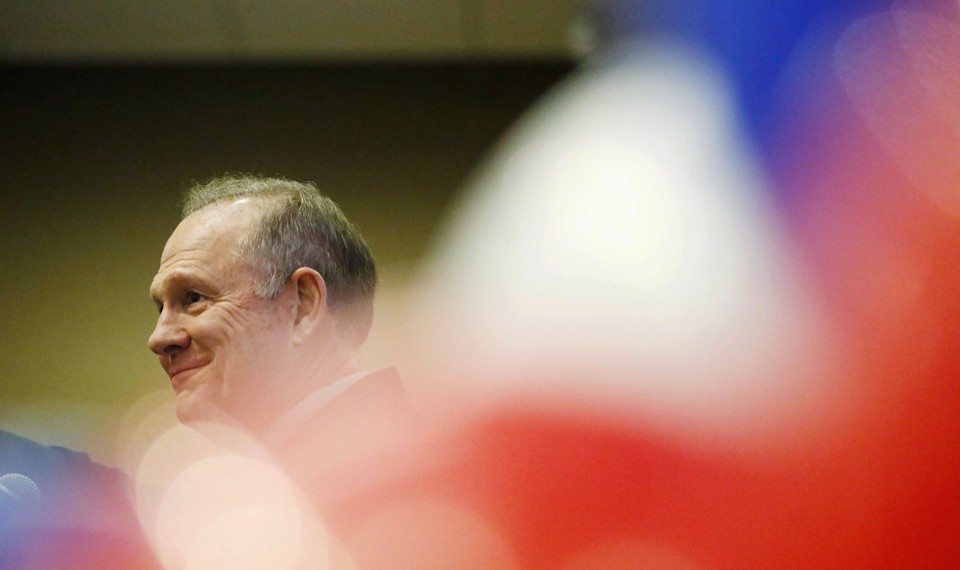 Alabama's Senate race received an ugly new wrinkle on Tuesday night, thanks to an apparent series of robocalls seem to be designed to fan resentments—of the press, of Northerners, and perhaps of Jewish reporters.
Local news station WKRG reported that one of its viewers received a robocall from a man impersonating a Washington Post reporter. In it, the man offers to pay women thousands of dollars if they'll make false accusations against Roy Moore, the state's former chief justice and the Republican candidate to replace Jeff Sessions in the Senate.
Hi, this is Lenny Bernstein. I'm a reporter for The Washington Post calling to find out if anyone at this address is a female between the ages of 54 to 57 years old willing to make damaging remarks about candidate Roy Moore for a reward of between $5,000 and $7,000 dollars. We will not be fully investigating these claims; however, we will make a written report. I can be reached by email at lbernstein@washingtonpost.com. Thank you.
Taken at face value, the call appears to be a hamfisted effort to discredit the Post's bombshell reporting into Moore's interactions with young women when he was a county prosecutor in the 1970s. The newspaper interviewed four women who said Moore made efforts to court them when he was in his early 30s and they were teenagers. One of them, Leigh Corfman, said Moore made sexual contact with her when she was 14 years old.
Those stories sparked a political firestorm for Moore and a headache for national Republicans, many of whom were already uneasy with the firebrand jurist. After a fifth woman came forward on Monday to accuse him of sexual assault, high-ranking GOP legislators in Washington, including Speaker Paul Ryan and Senate Majority Leader Mitch McConnell, called on Moore to step aside. Moore, for …read more
Source:: The Atlantic – Politics
(Visited 4 times, 1 visits today)