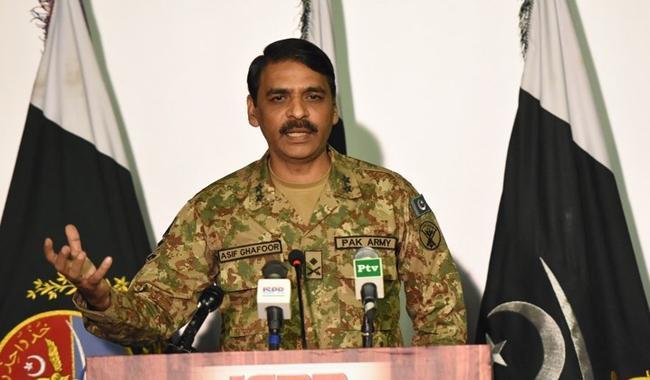 KARACHI: Director General Inter-Services Public Relations (ISPR) Major General Asif Ghafoor Thursday said that no one has to prove they are Muslims, adding that it is an issue between an individual and Almighty Allah.
The ISPR director general's comments come days after former prime minister Nawaz Sharif's son-in-law Capt (retd) Safdar from the floor of the National Assembly called for a ban on induction of Ahmadis in the army.
Addressing at Karachi University on Thursday, he said fundamentalism even exist in west and India as it has various forms. He said that geographically global economy is linked with Pakistan.
Addressing the students, he said, "Not every terrorist relates himself with fundamentalism. If I am someone who wants the entire world to view the world through my perspective, then I'll not be called a fundamentalist but an extremist," he explained. "If I force others to agree to my ideologies, then I'd be called as the one who is prone to violence or a terrorist.
Major General Asif Ghafoor said that there are no safe havens in the country as our armed forces have successfully eliminated their sanctuaries.
The DG ISPR termed it fortunate to be able to visit the campus, saying he was surprised to notice the number of women students being relatively higher than men. "It was said that Soviet Union's arrival in Afghanistan posed a threat to Islam," Asif Ghafoor said. He said the Soviet Union was ousted with the assistance of the US.
Source:: The News International – Latest news
(Visited 3 times, 1 visits today)