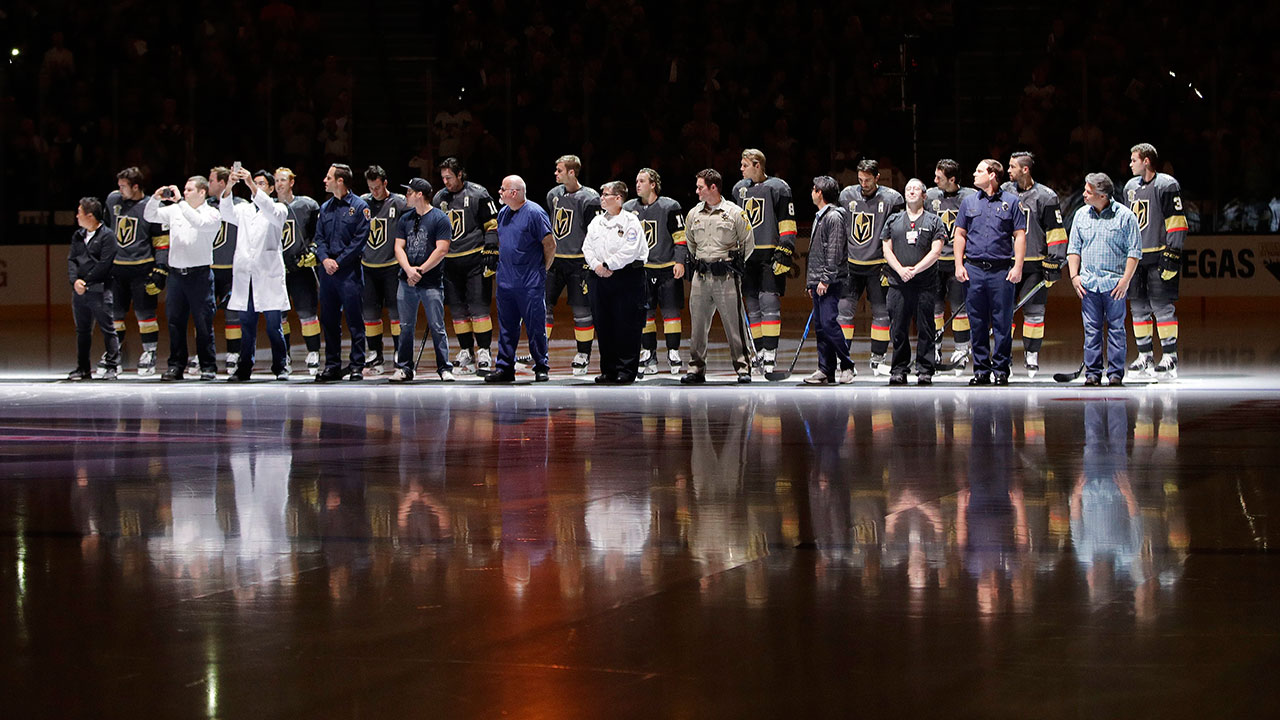 Hockey is certainly not top of mind for most Las Vegas residents after the horrific mass shooting that occurred at a country music festival Oct. 1, however the city's new NHL team, the Vegas Golden Knights, played their first regular-season home game Tuesday night and did the city proud.
The expansion franchise improved to 3-0-0 on the season with a win over the Arizona Coyotes but that's not what this night will be remembered for.
Golden Knights players got the red carpet gold carpet treatment prior to the game and fans flooded into the T-Mobile Arena eager to show their support.
George McPhee is fittingly the first person to step on our gold carpet. #VegasBorn pic.twitter.com/aqyyvC63fu
— Vegas Golden Knights (@GoldenKnights) October 10, 2017
We asked these guys their names but they don't seem to talk much? pic.twitter.com/7PdonImgDV
— Vegas Golden Knights (@GoldenKnights) October 10, 2017
AND HIS NAME IS JAMES NEAL pic.twitter.com/qUQ0mcD3aj
— Vegas Golden Knights (@GoldenKnights) October 10, 2017
Point the finger for what place we're in:) pic.twitter.com/Os5sNA6VhK
— Vegas Golden Knights (@GoldenKnights) October 10, 2017
Full circle as college roommates Nate Schmidt and Erik Haula arrive together. #VegasBorn pic.twitter.com/LKowsS8pkB
— Vegas Golden Knights (@GoldenKnights) October 10, 2017
Arriving in style pic.twitter.com/SPaPtdWRxH
— Vegas Golden Knights (@GoldenKnights) October 10, 2017
Yeeeee-yuhhhhhh! pic.twitter.com/iIaBezzu3U
— Vegas Golden Knights (@GoldenKnights) October 11, 2017
Signed by every member of the Golden Knights. #VegasStrong pic.twitter.com/cwffsqKYLd
— Vegas Golden Knights (@GoldenKnights) October 11, 2017
Nobody throws a party like Vegas does pic.twitter.com/VgtcDPLAQU
— Vegas Golden Knights (@GoldenKnights) October 11, 2017
#VegasStrong pic.twitter.com/80VCvJWbA5
— Vegas Golden Knights (@GoldenKnights) October 11, 2017
On every …read more
Source:: Sportsnet.ca
(Visited 4 times, 1 visits today)