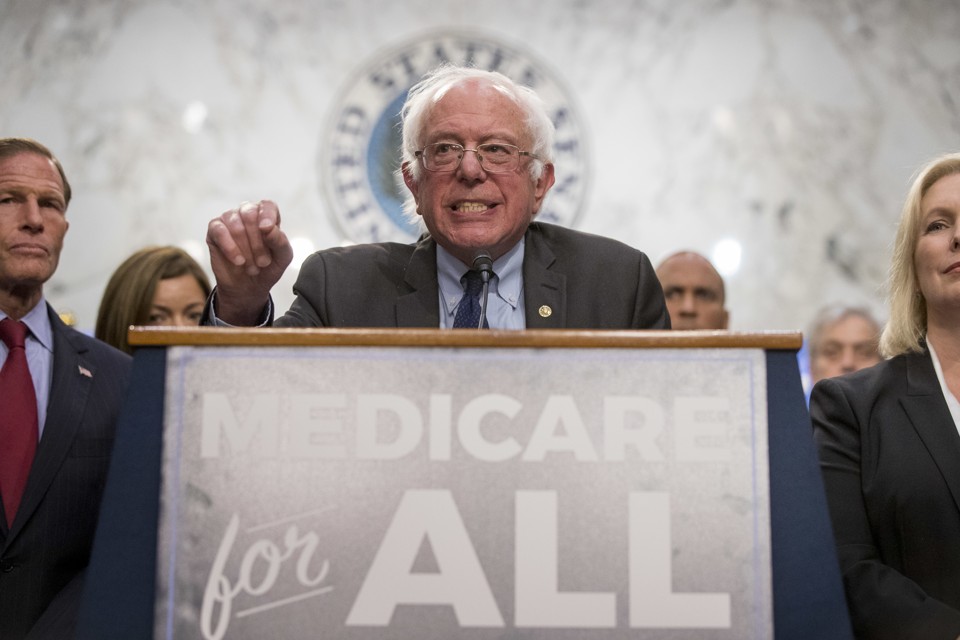 Take a second to step back. Breathe. A certain clarity of perspective is required to understand the weight of the moment. On Wednesday, Vermont Senator Bernie Sanders introduced a bill that could fundamentally reshape a party and the course of partisan politics: the long-awaited Medicare for All Act of 2017.
With the support of 15 congresspeople and significant grassroots and poll support, the bill is unprecedented, both in the scope—it would in essence nationalize one-sixth of the largest economy in world history—and in seriousness. Although the initiative is almost certainly doomed over the course of the next few iterations of Congress, it's now a rallying point, one its creators and sponsors aim to make the center of Democratic policymaking for years to come.
The broad strokes of Medicare for All are simple enough. Sanders's plan would completely replace the existing patchwork of employer, exchange, and public insurance—save for Veterans Affairs and the Indian Health Service—and replace them with a plan that covers, well, everything. Medicare for All would cover doctor visits, specialty care, inpatient visits, drugs, home care, and mental-health services, while also taking care of vision and dental benefits. Save for a provision allowing some limited cost-sharing for prescription drugs, all of those services would be covered with no cost-sharing—no deductibles, copayments, or coinsurance—whatsoever. Additionally, the plan bars private insurers from providing "health insurance coverage that duplicates the benefits provided under this Act," and would slowly expand to edge those insurers out of the market over the course of four years.
What takes shape over the 96-page document isn't really a scaled-up Medicare program, but something new altogether. As currently constructed, Medicare actually contains quite a bit of cost-sharing—particularly for prescription drugs—and an entire industry of private plans exist to beef up Medicare coverage and provide additional services for seniors. Sanders's …read more
Source:: The Atlantic – Politics