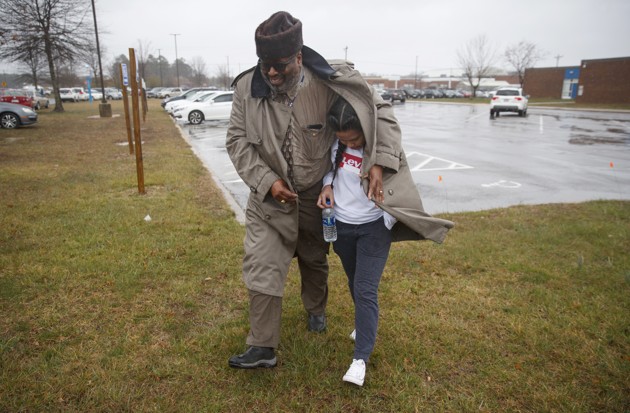 Today in 5 Lines
Karen McDougal, a former Playboy model, filed a lawsuit on Tuesday to be released from a 2016 agreement requiring her to stay quiet about her alleged affair with Donald Trump. And a New York court ruled that a defamation lawsuit filed against Trump by Summer Zervos, a former contestant on The Apprentice, may go forward.
In a press conference, Majority Leader Mitch McConnell said Special Counsel Robert Mueller, who is investigating Russian interference in the 2016 presidential election, "should be allowed to finish his job."
A package thought to be Austin-bound exploded at a FedEx facility in Texas. Officials said they believe the blast is connected to the other recent explosions in the Austin area.
Two students were injured after being shot by a gunman at Great Mills High School in southeast Maryland. Authorities identified the shooter as 17-year-old Austin Wyatt Rollins.
During a congressional hearing, Housing and Urban Development Secretary Ben Carson defended his purchase of a $31,000 dining set. "I left it to my wife, you know, to choose something," Carson said.
The Race We're Watching
Voters in Illinois are headed to the polls to cast their ballots in primary elections across the state. They'll choose candidates for November's gubernatorial race, which is turning out to be one of the most expensive in U.S. history. A host of Democrats, including former Governor Pat Quinn, is vying for Illinois's open attorney general's seat.
We're also keeping an eye on the Democratic primary in Illinois's 3rd congressional district, where seven-term Representative Dan Lipinski, a conservative Democrat, is being challenged by the much more progressive political newbie Marie Newman. The GOP primary in the state's 16th district could also prove interesting: Republican Representative Adam Kinzinger has spoken out against Trump and as a result, …read more
Source:: <a href=https://www.theatlantic.com/politics/archive/2018/03/the-atlantic-politics-policy-daily-secretary-of-interior-design/556076/?utm_source=feed target="_blank" title="The Atlantic Politics & Policy Daily: Secretary of Interior Design" >The Atlantic – Politics