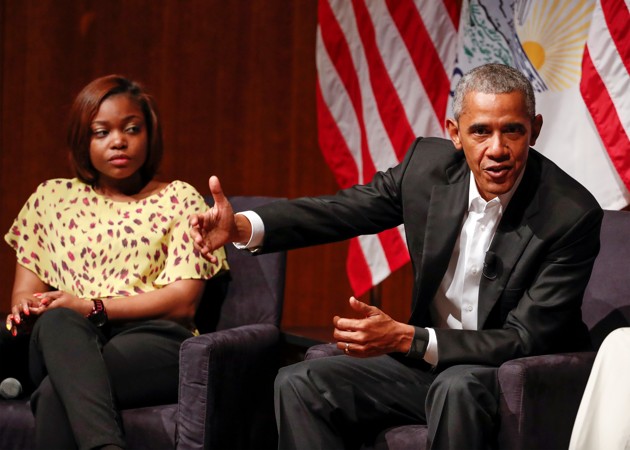 Today in 5 Lines
During his first public remarks since leaving the White House, former President Barack Obama avoided weighing in on the new administration and encouraged students to become politically involved. Treasury Secretary Steven Mnuchin and National Economic Council Director Gary Cohn are expected to meet with congressional leaders to discuss tax reform on Tuesday. Senate Minority Leader Chuck Schumer told reporters that President Trump could help avert a government shutdown if he stopped insisting on the construction of a wall along the U.S.-Mexico border. Trump congratulated astronaut Peggy Whitson for breaking the U.S. record for the most time spent in space, calling it a "special day in the glorious history of American spaceflight." Workers in New Orleans removed a monument to an 1874 white-supremacist uprising, and will soon remove statues commemorating Confederate leaders.
Today on The Atlantic
A Flawed Grading Scale: Two U.S. historians explain why the 100-day mark does not serve as a fitting metric to evaluate a president's performance. (Julian E. Zelizer and Morton Keller)
Representing Anne Frank?: The Anne Frank Center for Mutual Respect has emerged as one of the Trump administration's most aggressive critics. Emma Green takes a look at the organization's recent transformation and founding—which is not what they've claimed.
Trump's Reckoning: On Sunday, the Associated Press released the full transcript of its interview with President Trump. The conversation, writes David A. Graham, reveals the president coming to terms "with how little he understands the government."
Follow stories throughout the day with our ) and Candice Norwood (@cjnorwoodwrites)
Source:: <a href=https://www.theatlantic.com/politics/archive/2017/04/the-atlantic-politics-policy-daily-guess-whos-barack-in-town/524139/?utm_source=feed target="_blank" title="The Atlantic Politics & Policy Daily: Guess Who's Barack In Town" >The Atlantic – Politics