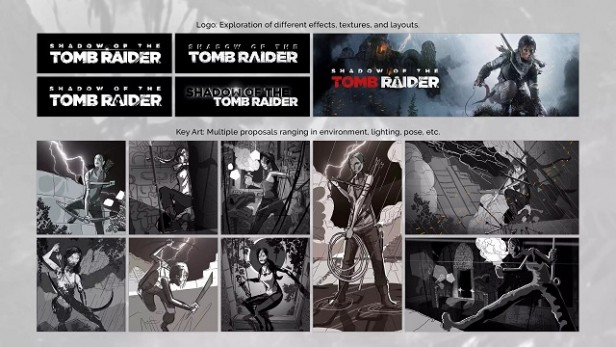 Update: It's all been rather quiet on the Tomb Raider front. Until now. As spotted by Kotaku, some concept art for the game appeared online over the weekend.
The art was part of a portfolio put together by a creative agency called TakeOff, known for its work in producing content for publishers. On its website (which is now currently undergoing maintenance), a section titled "Shadow of the Tomb Raider Logo and Key Art Exploration" appeared.
As you can see, the sketches are fairly early and this isn't a great indication of where the game is in its development. It is, however, an sign that a new Lara adventure is likely to be in the works.
Original article continues below…
After the rather unceremonious leaking of what will probably be the title of the next Lara Croft outing on a Montreal subway train, speculation has been rife about what exactly we can expect from Shadow of the Tomb Raider.
Will we see a darker Lara? A more confident Lara? Or will the entire game be about a Peter-Pan-style quest to retrieve her shadow? Probably not the latter, but here you can find all the news, rumors and everything we know so far about Shadow of the Tomb Raider.
Cut to the chase
What is it? The sequel to Tomb Raider and Rise of the Tomb RaiderWhen it is out? Early 2018, maybeShadow of the Tomb Raider developers: Crystal Dynamics…or Eidos Montreal?SOTTR publisher: Square EnixRelease date
The tentative release date above comes from a quote in Official PlayStation Magazine: "Rumor squirrels tell us Shadow of the Tomb Raider could be released early in 2018."
However, the game will not be at E3 2017, according to a Facebook post from Meagan Marine, the Senior Community Manager for Tomb Raider, who said …read more
Source:: TechRadar – All the latest technology news