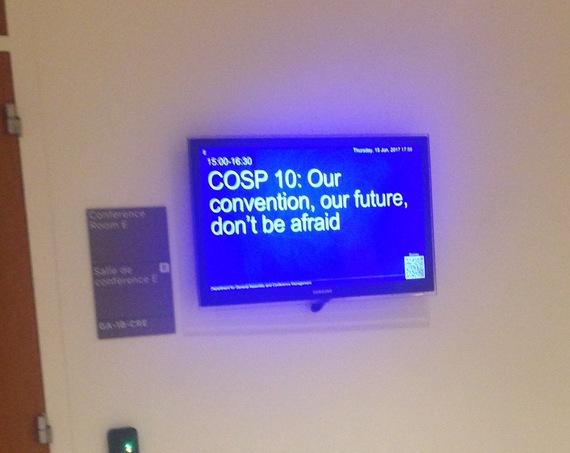 I have a picture taken on the final day in the final hour of this year's 10th Conference of States Parties (CoSP10) to the Convention on the Rights of People with Disabilities (CRPD). It's a picture of the empty corridor between the two United Nations buildings that had been traversed by hundreds of women with disabilities only hours before.
CoSP10 was significant.
It was this year that Canada appeared before the Committee that oversees the CRPD for its first formal review.
It was this year that many Canadian Disabled Persons Organizations (DPOs) went not once, but twice to Geneva to make sure that the Government of Canada was held to account for what it has and has not done since signing and ratifying Convention on the Rights of People with Disabilities.
At CoSP10 Minister Carla Qualtrough and other members of the Canadian Government's official Delegation spoke of the new Federal Accessibility Act (pending Federal legislation expected early in 2018) as the first step towards fulfilling the promise of full implementation of the CRPD and a Canada where people with disabilities can expect the realization of our human rights.
And finally, this year there was a focus on youth, and our Delegation included three young Canadian women with disabilities, Molly Burke, Simone Cavanaugh and Jana Husseini who are already global leaders in their own right.
Attending the UN Conference of States Parties was a privilege and an honour. For four glorious days, I was in the company of women with disabilities and Deaf women leaders from around the world. It's always good to be among your peers; it gives you a sense of belonging, hope and possibility. Peer support is critical to lifting ourselves out of our …read more
Source:: The Huffington Post – Canada