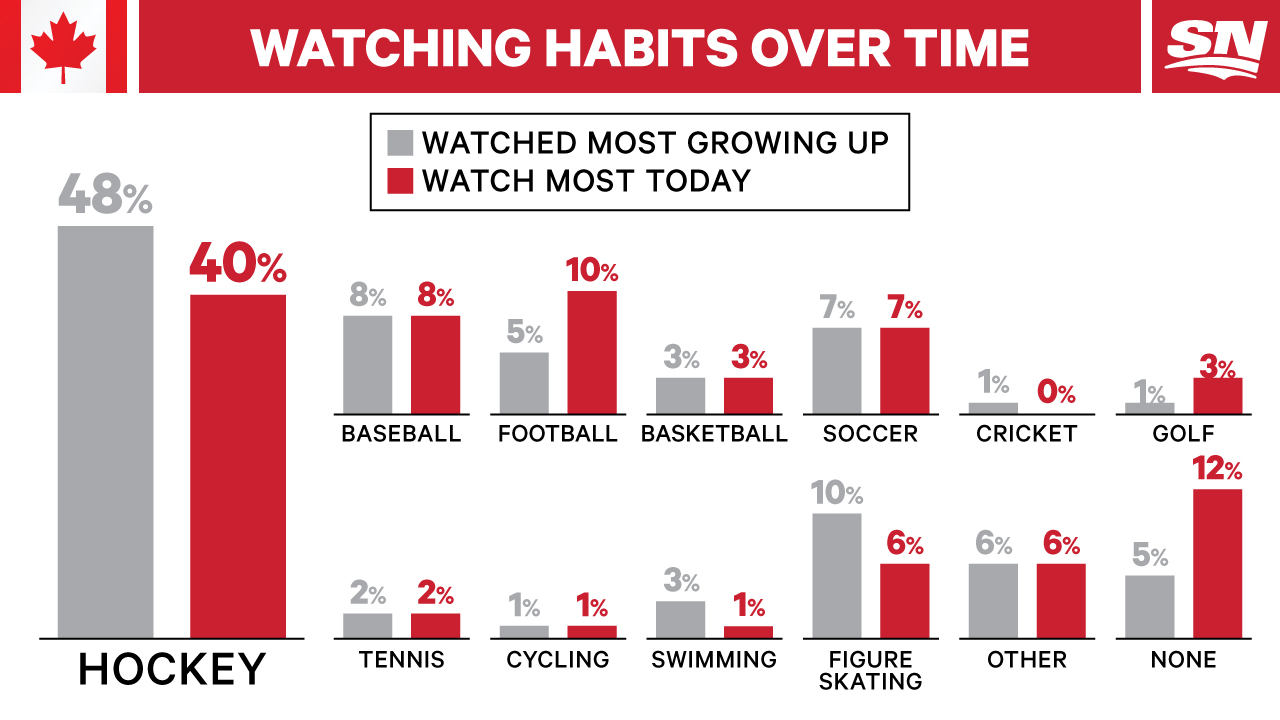 What sport did you watch most often growing up? And what sport do you watch most often today? We asked Canadians both of these questions as part of our survey of over 1,500 people from coast to coast.
Spoiler alert: Hockey was a popular answer to both questions.
As you would expect, nearly half of those surveyed said hockey was the sport they watched most often when they were young. But even as sports-watching options have ballooned in recent years — more available sports, more leagues, more channels, more ways to watch — hockey remains by far the most popular answer in terms of current preferences.
But, really, that just confirms what we already knew. We looked into the survey results for what else we could learn. To get things started, here's the overview:
As mentioned above, hockey dominated the answers. Forty-eight percent of respondents said they watched hockey most growing up, and 40 per cent said they watch it most now.
The second-most popular answer as far as what people viewed most growing up sticks close to Canada's connection to the ice: One in 10 answered figure skating.
Though, this is perhaps where we start to notice the effect of expanded sports offerings. Just six per cent said they still watch figure skating most today.
More from Sportsnet
The Penny Effect: Why Canadians want their kids to excel at swimming
Mike Johnston
Infographic: Canada's favourite NHL team by region, generation, sex
Craig Battle
Meanwhile, more respondents said they watch football and golf most today than respondents who said the same thing about their viewing habits when growing up.
Now let's break current watching habits down by generation:
Hey, look …read more
Source:: Sportsnet.ca