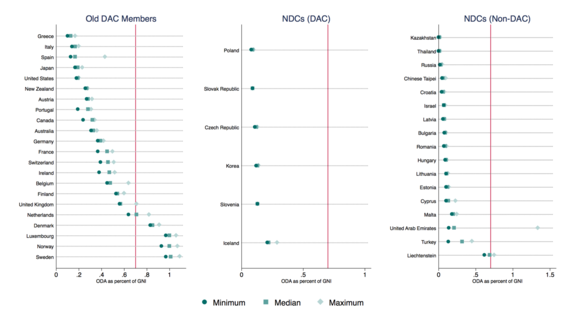 By Liam Swiss
In January 2017, a High Level Panel report on the OECD's Development Assistance Committee (DAC) recommended three key reforms for the DAC. One of these was that the DAC should evolve to: "be more inclusive of other development partners in its work and intensify its outreach and dialogue with other development partners in order to increase effectiveness and achieve results" (p. 1). At its June 14, 2017 Senior Level Meeting, the DAC embraced this and other reforms taking what the Chair of the DAC referred to on Twitter as the first step of "Going from club to hub for development."
2/2 by agreeing a stragic direction emphasizing core but also innovation and dialogue. Going from being a club to a hub for development.
— Charlotte Petri G. (@CharlottePetriG) June 14, 2017
In the face of growing aid skepticism and major cuts to aid by the USA, calls to expand DAC outreach and inclusivity require greater understanding of the proliferation of new donor countries than ever before.
In a recent Overseas Development Institute (ODI) report coauthored with Nilima Gulrajani "The Emergence and Proliferation of New Donor Countries: Assessing drivers and implications", we examine donor proliferation by comparing new donor countries (both DAC members and not) to existing DAC donors.
We find new donor countries are motivated by strong legitimacy and reputational concerns. In seeking legitimacy as donors, we argue that new donors do not match form and function – often falling short of the expectations set by the DAC. This is apparent in how new donors differ from established donors in three ways: (1) Generosity; (2) Aid to the Neediest; and (3) Multilateral Aid.
Difference #1: New donors are less generous
Our analysis shows how new donors provide less aid as …read more
Source:: The Huffington Post – Canada