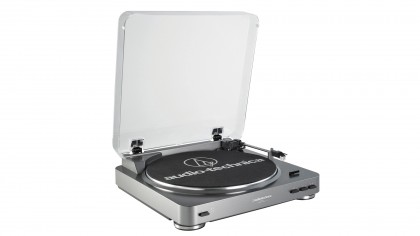 The music landscape is always changing. We've gone from analogue to digital and from super compressed MP3s to lossless FLAC in the span of 20 years. But in that transition, we started to lose what made music so special: soul.
Loving vinyl isn't about perfectly crystal-clear sound quality or the ability to take songs with you to the gym, it's about a mindful listening experience. It's about choosing which music you want to listen to, manually putting on a record and indulging in sound.
If you can't tell, we're big fans of vinyl and we think you might be, too.
And, according to the data, we're not alone. A report on Forbes says vinyl sales are at a 28-year high, growing 32% in 2015. To put this into perspective, vinyl sales last year were higher than those of ad supported music streaming services like YouTube and Spotify Free.
This profitability and resurgence in a bygone medium has led popular artists like Adele and Taylor Swift to release their albums on the vintage format – making now the perfect time to get into the format that your mom, dad, grandpa and grandma got down to all those decades ago.
But whatever your reason for starting a record collection there are a few things to know before you dive down the rabbit hole. Here's everything you need to know about getting into vinyl.
What is vinyl?
This is a good place to start.
Vinyl is named after the material records are printed on. Vinyl, like 8-Track tapes and cassettes, are an analog format – which you can simply think of as a direct one-to-one translation of a recorded song, rather than digital where that sound is converted into bits and electronically stored.
Also, for the love of God, never say "vinyls." The plural of vinyl is vinyl. However, you can …read more
Source:: TechRadar – All the latest technology news