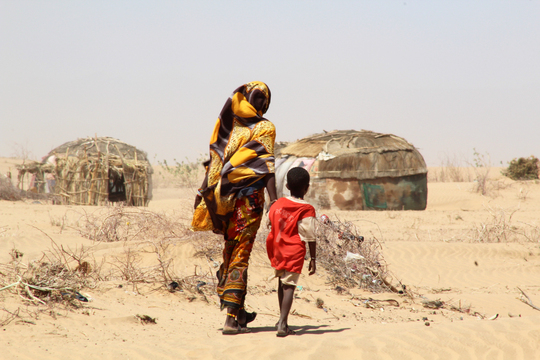 Given the fragile nature of our planet's environment, there are lots of things to think about this Earth Day, perhaps most notably, what we can do to limit the effects of climate change. That's certainly on my mind. But this year I'm thinking bigger: specifically, I'm thinking about how climate change — and the droughts that are becoming more frequent and more severe as a result — is affecting some of the most vulnerable communities in the world.
The scale of the
A woman and her son walk towards their traditional nomadic home in drought-stricken northern Kenya. (Photo credit: Plan International)
Children who are not at immediate risk of starvation may face the consequences of this drought long after it's passed. In Kenya, for example, nearly 200,000 students in drought-affected areas have stopped attending school, while in Ethiopia, close to 600 schools have already closed. It is estimated that about five million children could soon have their education disrupted because of drought.
Even students who are still able to attend school are struggling. In eastern Kenya, a teacher at an elementary school noted that "at around 10am, we notice our children are falling asleep at their desks. After speaking to them, we realized that the majority miss breakfast." And the exhaustion worsens throughout the day: "Many times we see children come back from lunch with less energy. Most families have been affected by this drought, making it difficult for them to provide adequate meals for their children."
Children fall asleep in class and struggle to concentrate on their studies in areas where food and water are scarce. (Photo credit: Plan International)
The drought is also having an acute impact on girls. Many girls in Kenya are responsible for fetching water in the afternoon before they go back to school. Longer and longer walks …read more
Source:: The Huffington Post – Canada