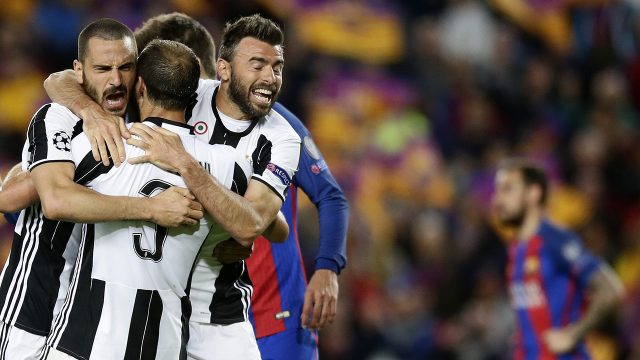 After the second legs of the Champions League quarterfinals, we've picked out a handful of standout footballers based on five different categories: The Gamechanger (MVP), The Finisher (scorer of many/jaw-dropping goals), The Playmaker (creator of goals/chances), The Protector (standout defender) and The Stopper (top goalkeeper).
Here are our five selections from Tuesday's and Wednesday's matches, including a dominant extra-time showing by Real Madrid and another stout defensive performance by Juventus.
THE GAMECHANGER
Marcelo, Real Madrid
There's no doubt that without Cristiano Ronaldo, Real Madrid would likely be headed home rather than into the semifinals. But what else is new; CR7 has made a living of scoring big goals on the biggest of occasions for Los Blancos.
But there was another Real Madrid player who shone in Tuesday's extra-time blowout of Bayern Munich.
Marcelo: No player has made more key passes from open play in a Champions League match this season than @MarceloM12 (7) vs Bayern Munich pic.twitter.com/BC1EmPMPBh
— WhoScored.com (@WhoScored) April 19, 2017
Brazilian defender Marcelo was a jack of all trades in Real's 4-2 victory, chipping in with four interceptions, a pair of blocks and a stunning goal-line clearance, while creating eight total chances over the 120 minutes –including an incredible run to set up Ronaldo's third goal in the 109th minute.
Marcelo toys Bayern's defense and provides the killer assist to Cristiano Ronaldo: pic.twitter.com/2yzAkSbIFV
— cc @BrazilStat (@BS_Video) April 18, 2017
More from Sportsnet
No Barcelona comeback as Juventus reaches Champions League semis
Associated Press
Monaco beats Dortmund to reach Champions League semifinals
Associated Press
THE FINISHER
Cristiano Ronaldo, Real Madrid
No one scored more goals in the quarterfinals than Ronaldo. In fact, Monaco was the only team that combined for more goals (six) than Ronaldo's five in this round.
After notching a pair …read more
Source:: Sportsnet.ca